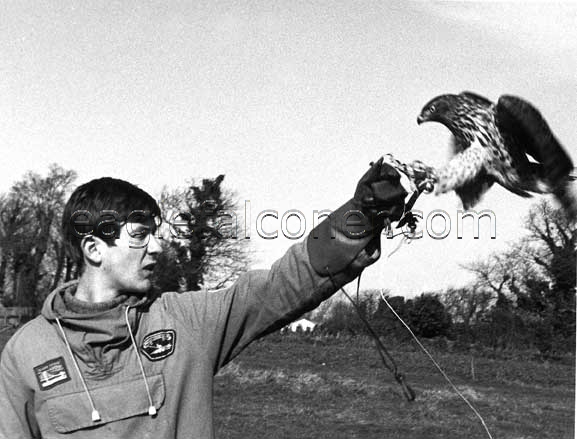 My passage Swedish goshawk "Otto" was named after Otto Kals a fine German falconer and superb falconry furniture craftsman.
I had been given two hawk bells crafted by Otto Kals. One was an eagle bell that I still have to this day, and is one of the finest crafted bells I have ever seen.
This photograph was taken in the winter of 67/68 and was in the field next to my house on the Island of Jersey.
Otto was trapped in Sweden by my friend David Kent whilst he was working there as a keeper. In those days it was easy to obtain goshawks from many countries in mainland Europe. The governments of those countries allowed a limited cull of goshawks for game protection, and if you knew a local falconer it was possible to get a freshly trapped hawk within a couple of days of trapping. No paperwork, just collect a box from the airport, Oh what simple days they were.