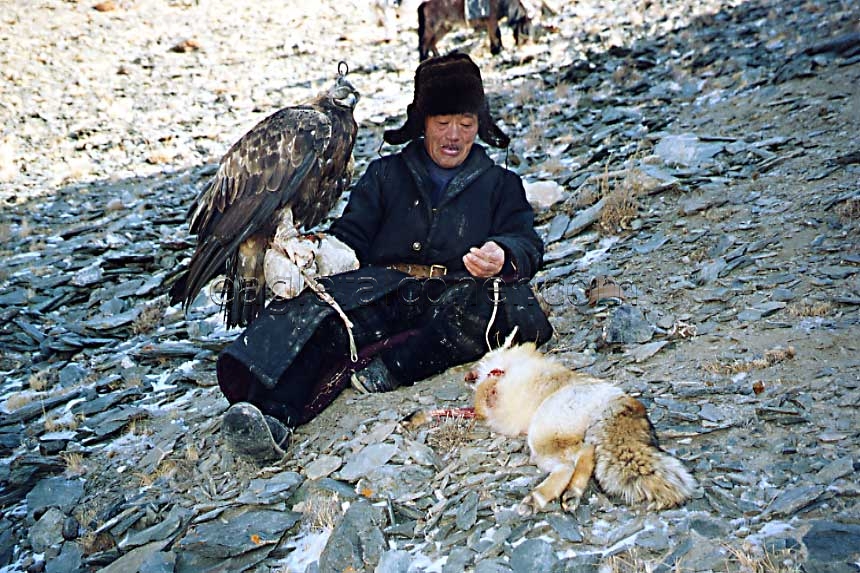 We had spent some hours this morning riding the shaded side of a boulder strewn mountain. It was difficult and cold riding as I concentrated to pick a good route for my horse through the loose rocks. The temperature in the shade was close to minus thirty centigrade and I felt we were wasting our time working this mountain side.
Any fox or hare would surely pick a sheltered spot in the morning sun to hide up, but Soltankhan had other ideas. He felt the berkut was not quite sharp enough when we set off, and a few hours on the cooler side of the mountain would add an edge to her. Well, it was numbing my brain that was for sure.
At last we rode up and onto the ridge of the mountain and back into the sun, up here the temperature rose another ten degrees to a welcome balmy minus twenty.
Soltankhan indicated that we dismount and settle down onto a rocky ledge, unfortunately the whole mountain was built of a vertical strata and the jagged surface was not a comfortable seat.
The rocks had not absorbed much heat from the suns rays and I could feel my body warmth being sucked from me and into the mountain. We looked down onto a semicircular crater of slab rock. It was as if half of the mountain had been destroyed by an explosion and the debris lined the mountain side.
Once again we waited with the un-hooded berkut as Erkenbek rode around the mountain base, whooping and hollering to try and disturb anything.
Frank, my hunting companion pointed out a fleeing fox and I just caught sight of it before it disappeared. It was heading up the mountain away from Erkenbek, Soltankhan released the berkut and she flew across the mountain to perch on an outjut of rock with a more commanding view of the crater.
Erkenbek started to move up the mountain looking for the fox he had flushed when the berkut dived down the mountain side.
The fox ran straight into the diving eagle and the pair of them rolled down the slope for some way. I gathered up two horses and made my way down the mountain on foot, which became a hair raising experience as I surfed down on a slab of loose rock with each horse surfing along side of me, each on its on slab or two of loose rock.